The Hydroelectric Plant is designed to supply and regulate the working fluid — hydraulic oil to hydraulic cylinders with the required pressure and flow rate. The system provides protection for hydraulic system against overloads. It also ensures the cleaning of the working fluid. The Hydroelectric Plant contains an adjustable axial piston pump with a mechanical pressure compensator.
The composition of the hydraulic station:
Filter-breather (filler). Designed to equalize the pressure in the tank when the oil level is changing.
Safety valve.
Hydrodistributor.
Check valves.
Manometers.
Water cooler.
Reducing valves.
Temperature sensor.
Water valve.
Pressure meter.
Oil level switch.
Hydraulic Circuit Diagram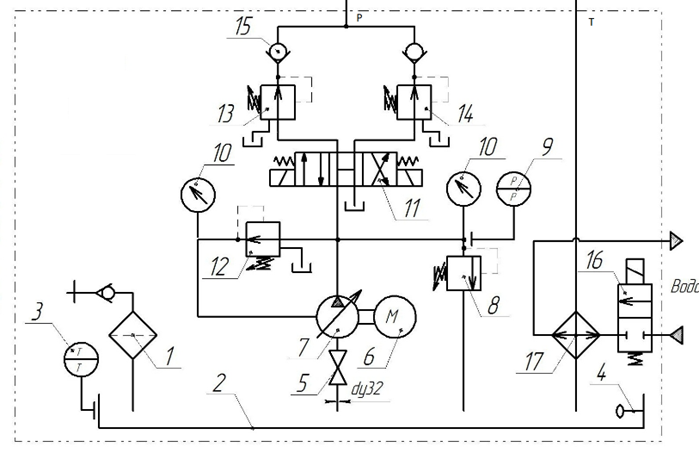 Operations:
When the motor is turned on, the pump shaft starts to rotate; oil is supplied to the hydraulic panel with the distributor. From the pump, oil flows into the tank through the hydraulic distributor (unloading mode). After applying voltage to one of the distributor coils (operating mode), oil begins to flow into the system through the pressure reducing valves. The operating pressure of the system is limited by a safety valve. The pressure of pump control is set by a pressure reducing valve. Pressure reducing valves set the pressure required for testing. Pressure and temperature sensors are used to monitor the corresponding values. The electro valve opens the water supply to the heat exchanger.